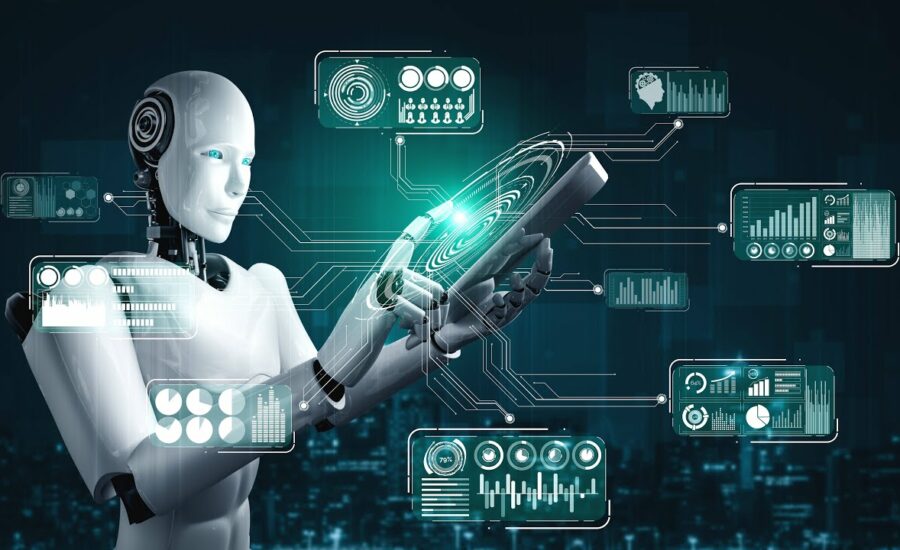 Robotic Process Automation
RPA & Workflow Process Automation
Most business owners can only dream of eliminating the pinch points of day-to-day business tasks. Fewer stacks of paperwork, better communication and fewer breakdowns can help your company run more smoothly and boost employee morale. Instead of having your employees enter data manually, consider investing in automation. Freeing employees from mundane tasks can speed up workflow and allow them to engage with customers, utilize their creativity and train for specialized roles.
According to a Kofax study, more than 20% of an employee's time is spent on repetitive tasks. In a 40-hour workweek, manual tasks take up more than one eight-hour workday. Think about all the follow-up sales calls, drip emails and finance approvals you could achieve by setting up workflow automation. Here's everything you need to know.
Some CRM metrics to track in your business are customer churn, renewal rate and customer retention costs.
What is workflow automation?
Workflow automation outlines a list of tasks for automating manual processes to improve efficiency and eliminate human error.
Automated workflows can be simple or complex, depending on your company's industry and departments. While an HR request might involve just one employee and the HR team, a finance request may include an employee, supervisor, finance manager and the CFO.
With workflow automation, you can track each step of the chain in real time. Keeping everyone up to date can significantly improve reporting and automation testing accuracy and increase engagement among departments. Bottlenecks within the automation can be tweaked immediately to prevent downtime. Data from workflow processes can be automatically transferred via enterprise resource planning (ERP) software, customer relationship management (CRM) software or similar business applications.
Benefits of workflow automation
Workflow automation can help every department in your company streamline processes and reduce the monotony of manual data entry. Benefits are apparent almost immediately after implementing workflow automation in the following departments.
Workflow automation can streamline facilities processes, including move requests, relocations, logistics and access issues.  
Workflow automation can help with managing documents efficiently, automating payroll management and integrating data with third-party apps. It can be used to generate faster approvals, set up auto-payments and streamline grants and expenses.
Human resources departments:
Workflow automation can help you set up recruiting filters for faster approval, update compliance policies, create faster onboarding and offboarding, and reduce paperwork requirements. It can also streamline timeclocks and time and attendance functions. 
With workflow automation in IT departments, you can delegate support tickets without risking duplication, confirm updates with stakeholders and track employee usage. It can also streamline shadow IT, improve security access and boost fraud protection.
Workflow automation can simplify client-intake forms and contract reviews. 
Workflow automation can help automate repetitive tasks, assist with remote employee collaboration, streamline the lead process and help you run multiple campaigns simultaneously from one dashboard.
Workflow automation can help automate maintenance requests, new product ideas and complaint management. 
Workflow automation can streamline vendor management, inventory pricing, invoice approvals and capital approvals. 
Workflow automation streamlines sales lead processes and automates lead follow-up, so each lead gets the same treatment. You can also track customers, send drip and personalized emails with discounts or thank you messages, and take advantage of real-time reporting to improve your bottom line. Email automation can elevate customer support by offering a more personalized experience that shows customers you're attuned to their needs.
How to create an automated workflow
You can design an automated workflow in five steps. While the process is relatively simple to execute, it's essential to continuously test and tweak automated workflows for the best results.
Determine a manual process you'd like to automate. 
Before automating a process, consider whether the process is a burden for the team and if the task would benefit from automation.
Identify why the process needs to be automated. 
Whether you want to streamline the process, increase efficiency among departments, or improve return on investment, having an automation goal will help you focus on the task.
Consult the team. 
To access workflow automation, your team needs training on using the process and learning from its data. Communicate goals and ask the team for suggestions during and after implementation.
Create workflow automation. 
Automated workflow software offers a drag-and-drop interface to organize tasks visually. Using a visual representation of tasks, you'll quickly see how one job identifies with another and navigates from point A to B. Once designed, business owners and employees can review the static process and edit it before building the automated process. When approved, automated processes connect alerts, forms, tasks and recipients within the workflow automation software. Departments such as facilities, finance, human resources, IT, legal, marketing, operations, purchasing and sales can benefit from streamlined workflows.
Test and tweak.
After the workflow automation is complete, test it to ensure it streamlines the process, saves time and improves ROI. If it does, continue using it to maximize efficiency. If the automation is difficult to use or has bugs, or team members don't like it, brainstorm how the automation can change for the better or determine if it's necessary in the first place.